In the summer of 2007, I spent two months living and working in Kenya with a youth group in the Kibera slums of Nairobi that had self-organized as SHOFCO, or Shining Hope for Communities, an association of young people dedicated to improving their own lives and opportunities for the future. It was during this trip that I met Professor Ruth Oniang'o, Editor-in-Chief of the African Journal of Food, Agriculture, Nutrition and Development, who had worked extensively on issues of rural poverty, encouraging people to grow food gardens.  
As we remember the intense violence that occurred in January 2008 following the presidential elections, and look ahead to elections in March, we honour the work happening on the ground in Kenya to advocate for and promote peace.  This month, AJFAND has published an article devoted to Global Peace, while SHOFCO's youth-run newsletter is devoted to the same subject.  Warm thanks to both organizations for their commitment to peace and to sharing their hopes and work through these written media.
AJFAND Volume 13, No. 1 Foreword (excerpt)
The Year 2013 is already getting old. For us here in Kenya, it is our Jubilee year, marking 50 years since Kenya became independent from British colonialism after a hard fought war. People of my generation remember the celebrations, the hope that was exuded and the many promises our founding fathers made at the time, of better quality of life for all the citizens, who at the time were about 7 million.
Fifty years later, we are a population of approximately 44 million, with about 70% under the age of 35, many with a good education that was promised, but most of those educated now looking for jobs which are difficult to come by. I am aware unemployment is currently a problem world over, as economies struggle to survive; youth unemployment is even worse.
Exactly 5 years ago, around this time, Kenya was at the brink of disintegration, with vicious violence and burning, and massacres in a number of parts of the country, reason: The person that was expected to be announced as having won the election was relegated to the second slot. Prior to the elections, the polls were showing a close race, and in some cases, a tie. I see again now, the polls being used to sway the crowds, to say "we are on the winning side and you better join us". We need to sit back and keep reminding ourselves of what aspects were being set prior to the 2007 elections that might have contributed to the post-election violence then. I thought the US elections constituted TV drama for us; right now Kenyans are being treated to an even more intense drama right here at home. Why am I starting my Foreword for issue 56 of AJFAND with this? Well, I am aware most of my friends are aware of the political situation that is pertaining in Kenya now, and are worried about me and our country, given what happened in 2007/2008. Let me tell you that many Kenyans are also anxious and have resorted to prayer and fasting, and are hoping that all will be well. We are doing more than that though.
There are peace rallies, many of them spearheaded by young people. Everywhere people are preaching peace. Even as our government assures us of security, Kenyans are not sure because even in these "normal times", there are many parts of the country like the Tana and northern Kenya which are not safe. This makes world news.
Editorial
Without Global Peace, we can never eradicate hunger or food insecurity, let alone enjoy the food we eat. Is it just me who is feeling it, or the world is truly seem more troubled? Are our leaders investing enough in trying to understand these trends? The world is now indeed a global village. The conflicts in different parts of the world, whether in Syria or in Mali or terrorist attacks in Nigeria or in my own country of Kenya, come to us direct on our media screens and more and more on our mobile phones.
We now live with these issues on a day-to-day basis. Strange occurrences are taking place all over the world; in addition to man precipitated events, there are also increased natural events, such as killer storms and floods. Then we have human tragedies such as child shootings in the USA and men exterminating their families for reasons not easy to understand. As we travel, we are made aware of the possible risks and threats out there that could manifest in different forms; it is the same when we enter buildings, when we walk in malls, and even when we live in our traditional homes in the villages. No one is spared.  I remember years back attending a seminar on bioterrorism and at the time, it sounded far-fetched; that is not the case anymore.
There are so many other situations which both you and I are aware of. In the past, we have worried about nuclear warfare; but just think about the many weapons that could be used to mass-kill? Are human minds being impacted differently by modern technology? Are we investing enough in forensic audits or in research on how the human mind is being affected by new events, new situations, new inventions? We talk of climate change as if it is an isolated event. What else is changing? Whatever we do, if we do not keep our eyes on the food situation, we may regret. There is so much going on that is diverting our thinking away from how we shall feed the world in the coming years, that it is about time this issue became our leaders' priority. Even those in wars have to be fed, and those on the run from wars and disasters have to be fed too.
What we call climate change is being manifested in severe drought events where there have not been any, torrential rain for longer periods that could affect crop maturity and sun-drying of grain (for example in East Africa), new volcano eruptions, mudslides killing hundreds of people, and avalanches causing havoc. All these events disrupt lives and cause suffering for families, because there does not appear to be early warning signs in some of these areas, to enable mitigation arrangements. Lives are lost, property is destroyed and mothers, children and the elderly become more vulnerable. To fix all this requires money at a time when world economies are struggling. When people face financial challenges, or are uncertain about the future, their temperaments will clearly be affected. I know it happens to me. Whenever my mood changed when I was bringing up my children, they would ask me:  "Mummy, what has happened?" It is worse when you have others that depend on you. These "others" could be your parents who no longer have an income, your own children who have been used to a certain lifestyle or "others" such as orphans that you support as a charity function.  I recall during the 2008 post-election violence in Kenya, I had 67 orphans/vulnerable children I was supporting with my own salary, and my worry afterwards was more about these children, whose futures had been shattered for no fault of theirs, and less about my own personal and economic security.
Immediately following this violence, Kenya was short of food and in fact our development partners had to come to our aid. As I open my computer to access my yahoo account, I am confronted by news, mostly bad, and of very strange happenings. A former journalist friend of mine told me: "Ruth, bad news sells". While it sells and we read it, how are our brains affected? How do you explain criminal actions of a seemingly intelligent, quiet and friendly person with no criminal history? Are we seeing more and more of these cases, or is it just that now I can be in a village in Kenya and read of such an event happening in Australia? And if I have a criminal mind, will I be influenced by certain actions? What then triggers such minds to go into negative action? I am not a psychiatrist but being a teacher, I better be able to understand a bit of human nature. Are we investing enough in understanding these emerging events? We can talk of ensuring food security for all, which for now appears a battle we are losing, but we need to understand these new unsettling events, and try to do something about them. Can we use our efforts in agriculture to preach peace? How do we engage everyone in some productive action, good action that is? In my own country, young people do not want to be told" you are leaders of tomorrow". Not anymore. They want to be leaders now because they feel left behind and out by successive governments, and by adults.
Young people have degrees because we wanted to have education, but what do we do when there are no jobs? We spend far too much time on other things than ensuring peaceful co-existence. With peaceful co-existence, we can focus of the right things in life, especially according to what your own religion teaches. Otherwise, as we hull abuses at others on the internet because nobody can see us, nations fight against each other, and we discriminate against other as if it were a right, we shall wake up to a disaster that wipes out our ability to feed ourselves and our loved ones, and at that time, we shall have NO choice.
Leaders need to invest more in peace efforts. Almost everywhere in the world, people are either in the streets demonstrating or fighting, for different reasons. In some areas citizens have realized that their rights are being violated and are, therefore, demanding them; in others, citizens want a piece of the national cake; in others still certain groups feel it is their turn to ascend to power; in others more, citizens are protesting long standing dynasties as they do not consider these democratic. In all these situations, emergency food aid is called for. In these situations of personal safety threats, food production takes a back seat as people are forced to move from their own areas of food production. Personal safety is paramount for food and nutrition safety, for personal growth and for national development. These are issues for us all to ponder.
Ruth was educated in Kenya and in the USA . She has worked in Kenya throughout her professional life, gaining her international experience through meetings and conferences and through participation in multi-national dialogues. Beyond her academic training, she has spent a considerable amount of time researching talking about food security and hunger issues. Ruth K. Oniang'o is the executive director of the Rural Outreach Program, a non-profit development organization that empowers women through agriculture and entrepreneurial projects. Prof.(Dr.) Oniang'o was a nominated member of Kenya 's ninth parliament from 2003-2007 and served as Shadow Minister for Education. As a parliamentarian, she was Vice-Chair of Kenya's Women Parliamentary Association and worked on the Sexual Offences Bill with fellow women colleagues, a landmark bill regarding punishment for sexual violence in Kenya and championed the passing of the Kenya Biosafety Bill and the Nutritionists and Dietetics Bills. Before becoming a member of the Kenyan Parliament, she was Professor of Food Science and Nutrition at the Jomo Kenyatta University of Agriculture & Technology in Nairobi , Kenya. Her areas of research and consultation are household food and nutrition security, women's nutrition, child health, and community-level agro-processing and related enterprises. She is the founder and editor-in-chief of the African Journal of Food, Agriculture, Nutrition, and Development ( AJFAND).She serves on a number of Boards (HarvestPlus, IRRI, IFDC until a year ago) to name a few.
Shining Hope for Communities Newspaper – Peace Edition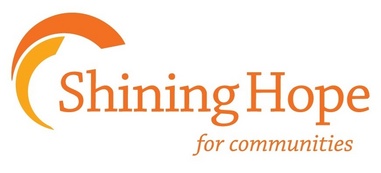 Click to read the Ghetto Mirror Peace Edition
Shining Hope for Communities combats intergenerational cycles of poverty and gender inequality by linking tuition-free schools for girls to essential social services for all through a holistic, community-driven approach. By concretely linking essential health and economic services to a school for girls, we demonstrate that benefiting women benefits the whole community, cultivating a community ethos that makes women respected members of society.